Thanks to the innovation, research and uniqueness, which are our "guides", we blend the respect for traditions and the characteristics of the country. We are too young, we all have energy, and we have realized the fragrances and a series of soap and bio make-up, making our efforts in our raw materials. Each single product is hypoallergenic, without glicene, parabene, conservants, it is only mad of denaturized alcohol. Each product is suitable for every kind of skin, even for babies and for those, who have wrinkles.
The donkey and the snail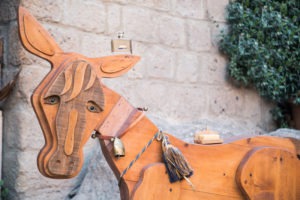 We would like to infuse the record and the value of our area, so we created a therapeutic line made of donkey milk; the donkey is the symbol of Civita. Twice a year in Civita is celebrated "La Tonna", some donkeys run after in our place, where there is our shop, there is a donkey, which will invite you to enter in.  The donkey was the animal adopted to join our "borgo" with shaping, even today there are still the ring s where to tie the donkey.  The donkey milk qualities are well known since ancient time, in fact Poppea and Cleopatra knew this product and bathed in the donkey milk, to make their skin immortal.  We studied a full line of soaps, shampoo and shower gel, with a cream kit made of donkey milk, which come from Italian producers. The snail droll is our second line of products, it come from animal farm near here, the snail produces it naturally. Our lines of product are strictly connected to our product, our extra-vergine oil. The selection of donkey milk and the droll snail are complementary to each other: the first, has no parabens and it is good for each kind of skin, in fact it has shooting and smoothing properties, those are good for dirt skin, which need to be well hydrated. The second one is characterized by an healing actions, lifting and anti-aging, which makes their skin elastic and smooth, it is against wrinkles and it is good for make-up eyes.
Naturally bio
We study our products before to sell them. Our soaps are labored with pure extracts melt with coconut oil and the olive in saucepans and freshed in wood kind. In addition to our product made of lavender, grapes, olive oils and cinnamon, and verbena, we added to donkey milk two new entries, the remove make-up and the clay soap. The circle is inevitable: you visit Civita, and then you come back home , you bathe your skin, but you always want to hear those smells to recollect you.